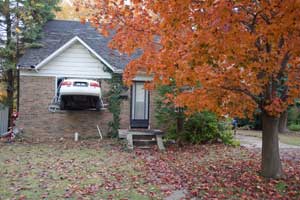 Janine Marchessault: "Art and Suburbs: Revisiting the Leona Drive Project"
Feb 10, 2010, 10:30am-12pm
Janine Marchessault, associate professor of media studies in the Department of Film and Canada Research Chair in Art, Digital Media & Globalization, hosts a film presentation and panel discussion reflecting on the impact and significance of The Leona Drive Project.
The Leona Drive Project was a landmark collaboration in which more than 20 noted artists joined with students, developers and place-makers to create a site-specific exhibition on a street in one of Toronto's oldest inner suburbs, Willowdale. The project, which ran for 10 days in October 2009, featured 18 original artist projects installed in a series of five vacant bungalows slated for demolition.
Specifically designed to engage with the architecture and spatial design of the houses, the works spanned a variety of media, from audio, architectural installation and projection to photography, sculpture and performance. The project incorporated recorded audio interviews with new and longtime residents of Leona Drive, photographs of Willowdale past and present, and a documentary film about the project and the process behind it by York film Professor Philip Hoffman.
Marchessault conceived The Leona Drive Project and co-curated it with Ontario College of Art & Design Professor Michael Prokopow. The artist works were commissioned through the York University-based Public Access Collective in association with the LOT: Experiments in Urban Research collective.
Some of the artists who participated in the project will be on hand to talk about their contributions and join in a discussion of the role that artists play within our civic communities.
This presentation is part of the 2009-2010 Faculty Hour series spotlighting research underway in the Faculty of Fine Arts at York University.
Admission is free and all are welcome.
Location:
214 Joan & Martin Goldfarb Centre for Fine Arts, York University, Keele campus
Sponsor:
Faculty of Fine Arts
York University Events