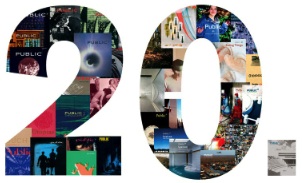 PARTY INVITATION
PLEASE JOIN US FOR THE 20TH ANNIVERSARY CELEBRATIONS OF THE JOURNAL PUBLIC: ART/CULTURE/IDEAS PUBLIC + LAUNCH OF #37: "Public?" edited by Aleksandra Kaminska, Janine Marchessault and Jason Rovito.
Tuesday, December 9th @ 8pm
Music by DJ Vas, projections Geoffrey Pugen + Special one time screening from the PUBLIC ACCESS archive featuring:
VICTOR BURGIN, JOHN GREYSON, LYNNE FERNIE, VERA FRENKEL, JENNY HOLZER, KELLY MARK, LISA STEELE and KIM TOMCZAK, MICHAEL SNOW, HO TAM, KRZYSZTOF WODICZKO...
LULA LOUNGE 1585 DUNDAS WEST (just west of Dufferin)
(ADMISSION is FREE)