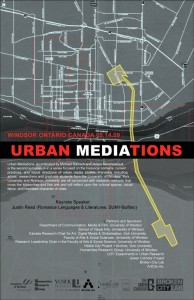 Windsor, Ontario, Canada
May 14, 2009
Urban Mediations, co-ordinated by Michael Darroch and Janine Marchessault, is the second symposium in a series focused on the historical contexts, current practices, and future directions of urban media studies. Panelists including artists, researchers, and graduate students from the University of Windsor, York University and Ryerson University are all concerned with research methods that cross the humanities and fine arts and will reflect upon the cultural spaces, visual fabric, and mediated character of cities.
Keynote Speaker: Justin Read (Romance Languages & Literatures, SUNY-Buffalo)
Partners and Sponsors:
Department of Communication, Media & Film, University of Windsor
School of Visual Arts, University of Windsor
Canada Research Chair for Art, Digital Media & Globalisation, York University
Faculty of Arts & Social Sciences, University of Windsor
Research Leadership Chair in the Faculty of Arts & Social Science, University of Windsor
Visible City Project + Archive, York University
Humanities Research Group, University of Windsor
LOT: Experiments in Urban Research
Green Corridor Project
Broken City Lab
ArtCite Inc.