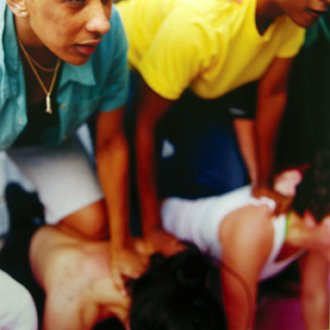 Friday 23 January and Saturday 24 January, 2009
The Power Plant Contemporary Art Gallery at Harbourfront Centre
231 Queens Quay West
Toronto, ON M5J 2G8
Featuring: Ian Balfour, Carlos Basualdo, Luis Jacob, Saara Liinamaa, Maria Lind, Nina Möntmann, and Emily Roysdon, with a keynote lecture by Simon Critchley
Saara Liinamaa, a PhD candidate in Social and Political Thought at York University and Visible City Research Associate, will be one of the featured speakers at We, Ourselves and Us. The symposium is organized by The Power Plant in association with the journal Public and with the collaboration of the Goethe-Institut, Toronto. A special issue of Public arising from the exhibition and symposium and edited by Nina Möntmann will be published in 2009.
SCHEDULE:
KEYNOTE LECTURE
Friday 23 January
7PM – 9PM
Studio Theatre, 235 Queens Quay West
Simon Critchley: Mystical Anarchism
Chair and Professor of Philosophy at The New School for Social Research in New York, whose recent publications include On Heidegger's Being and Time, The Book of Dead Philosophers, and Infinitely Demanding.
Response by Ian Balfour, Professor of English at York University, author of The Rhetoric of Romantic Prophecy, editor of Late Derrida and co-editor, with Atom Egoyan, of Subtitles: On the Foreignness of Film.
SYMPOSIUM
Saturday 24 January
10:30AM – 6PM
Brigantine Room, Harbourfront Centre, 235 Queens Quay West
10:30 – 11AM
Registration and Introduction
11AM – 12:30PM
Carlos Basualdo
Curator of Contemporary Art at the Philadelphia Museum of Art and curator of 'Tropicalia: A Revolution in Brazilian Culture'
Luis Jacob
Toronto artist included in 'If We Can't Get It Together'
Chaired by Helena Reckitt, Senior Curator of Programs at The Power Plant.
1:30PM – 3PM
Emily Roysdon
New York artist and member of LTTR Collective participating in 'If We Can't Get It Together'
Nina Möntmann
Curator of 'If We Can't Get It Together,' editor of Art and Its Institutions and co-editor of Manifesta 7. Companion Reader
Chaired by Simon Critchley.
3:30PM – 5PM
Maria Lind
Director of the Graduate Program at the Center for Curatorial Studies, Bard College, and editor of Taking the Matter into Common Hands: Collaborative Practices in Contemporary Art
Saara Liinamaa
PhD candidate in Social and Political Thought at York University and member of the Public Access collective
Chaired by Janine Marchessault, Canada Research Chair in Art, Digital Media and Globalization at York University.
5:15PM – 6PM
Screening
Nicoline van Harskamp, To Live Outside the Law You Must Be Honest, 2005-6, The Netherlands, 40 min.
6PM – 7PM
Complimentary reception at The Power Plant co-hosted by The Power Plant and Public.
For more information, visit http://raiq.ca or http://dev.e-flux.com